Mustek 1200 complete scanning system!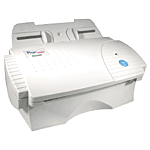 The Mustek 1200 series is a complete scanning system, which includes everything needed to scan photographs, logos, illustrations or text. An interface kit and software are provided for PC compatible computers running Microsoft® Windows® 3.1x and Windows® 95. These scanners offer 24-bit true-color scans. You can capture photographs, logos, illustrations, or text with 16.77 million colors, 256 shades of gray, or in line art mode. There's no waiting around for your images as a true-color charged-coupled-device is used to capture rich, vibrant colors in a single-pass. Just plug into the parallel port and get busy.

Put Pictues on eBay and greatly increase your sales! Trade pictures with friends, build a website! Scan important documents.....the uses are endless!!
Product Specs:
Model: Mustek MSF-1200C-EPP
Scanner Type: Color sheetfed
Scanning Method: Single pass
Resolution:

Optical: 300 x 600 dpi
Maximum: 1200 x 1200

Color Mode: 24-bit/pixel, 16.77 million
Grayscale Mode: 8-bit/pixel, 256 shades
Binary Mode: 1-bit/pixel, line art
Document Size:

Minimum: 3.5" x 2.0"
Maximum: 8.5" x 14.0"

ADF Capacity: 10 sheets/20 lb. bond
Paper Thickness:

Minimum: 16 lb.
Maximum: 30 lb.

Scanning Speed: 5 PPM
Dimensions:

Height: 7.75"
Width: 12.5"
Depth: 7.75"

Weight: 4.1 lbs.


Product Specs:

Software Included:

Image Editing Software: Included
Text Recognition Software: Included
Software bundle may vary




System Requirements:

System: IBM® compatible 386 or greater
Operating Software: Microsoft® Windows® 3.1X or Windows® 95
Memory: 8MB RAM
Interface: Enhanced Parallel Port (EPP) or Standard Parallel Port (SPP)
Monitor: 256 Color Display (32K or higher recommended)


Warranty:

1-Year Mail-In
Mustek, Inc. (949) 788-3600
High bidder to pay 15.99 for shipping and insurance
Good Luck!! Bid now!