Tin Signs
here is all the Betty Boop stuff I have. It is all on one page so give it a little time to load!
All of these signs are 20.00 or if you buy two or more they are 15.00.

shipping for 1 is 3.00 and shipping for more than one is 5.00 for all.
This also come in a two switch plate

The light plate switches are 9.00 each, 2 or more is 7.50 each with shipping cost of 4.00 total for any amount.

the double switch plate is 10.00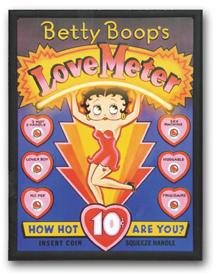 This is the last betty boop thing I have. A neon sign. You can see the strip of neon. it is 16 1/2 x 12 1/2. the cost is 120.00 plus 10.00 shipping/insurance.
If you have any questions, email me. Chadl@sttl.uswest.net