Syringe pen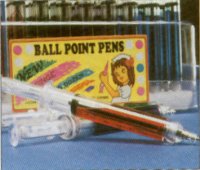 Novelty syringe pen actually looks like a syringe! Liquid inside moves around and pushing on the plunger engages pen.
buyer to pay 1.00 shipping for the first item, .25 each additional. combine auctions to save money!

click here

to view my other auctions
KCL distribution, unique gifts as well as wholesale pricing!