Mitsubishi DJ-1000 Digital Camera with SanDisk External Flash Card Drive!!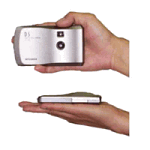 Introducing a totally new concept in digital photography.
The Mitsubishi's DJ-1000 diminutive size is both revolutionary and convenient. Take it anywhere! With its technologically advanced picture quality, color balance, and resolution, this sleek little camera is great for everything from intimate portraits to stunning landscapes, from wide-angle scenery shots all the way down to extreme close-ups.
Mitsubishi's DJ-1000 is not only small and light but also inexpensive. The unit barely budges the scales at less than 3 ounces with two AAA batteries and a 2MB CompactFlash card in place.
It is easy to capture the fun with the DJ-1000 digital camera. There is nothing to focus, just point and shoot. With its sleek, ultra-thin desgin the DJ-1000 fits right in your pocket.
-Compact, light weigth(2.8oz) and easy to carry
-Optical viewfinder puts the world in focus
-Focus free lens for point and shoot ease of use
-Includes reusable 2MB Compact Flash Memory Card
-The Compact Flash Memory gives you unlimited storage capacity. When one card becomes full, simply put another one in.
- Retrieving your images is easy. The Compact Flash Memory card plugs into any PC Card Adapter (PCMCIA slot) or use the PCMCIA interface adapter for notebook connection
- Includes DJ-1000 Application Software for easy viewing/downloading.
BID NOW AND ALSO RECEIVE THE REQUIRED FLASH DISK EXTERNAL DRIVE!
The image mate by SanDisk allows you to access pictures and data from CompactFlash cards.

Simple to install
Easy to use
Fast transfer
Works as an extra disk drive
Store other data as well as pictures
$119.99 Value

Included with YOUR bid!
Buyer to pay shipping of $10.00
Se sure to check out my other auctions!
Stop by the Happy Pear and enter to win Cool Prizes! FREE